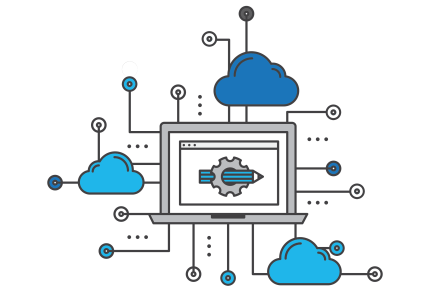 vServices offers Cloud Servers at amazingly low prices. Hosting service can be provided to you on demand via the internet and through multiple connected servers. It provides on demand access to shared pool of configurable computing resources that can be released with minimal management efforts. Cloud servers provide the definite advantage of reliability and scalability and offer you huge savings in form of no up-front purchase and infrastructure costs. With our cloud servers, you no longer need to spare time and money on computer infrastructure and other such non-core business activities. This will also speed-up your applications and reduce maintenance costs. Our team of experts can happily meet your fluctuating business demands. Spin up a Cloud Server in just 30 seconds.
Buy Online, Build locally and Deploy globally
Cloud Computing – a new way forward for computing


Quick Installation
Our deployment team is readily available to install and configure at quick notice. We provide speedy access to the cloud server with simple API/Command Utilities. We can work together with you to manage your Cloud.

Cloud Servers
We can provide Intel Xenon Processor based Cloud and advice for Private, Public or Hybrid Cloud to meet your all PaaS, SaaS, and IaaS needs.

Highly Available Servers
Our Servers are available with ample Storage, which you can always increase. Various faster SSD and Xenon Server options are also available to match your needs.

Our Service
We offer High Performance and Risk-Free Contract with a Greater Degree of Flexibility and Uptime Guarantee. Servers are provided with firewall and industry-leading control panels.