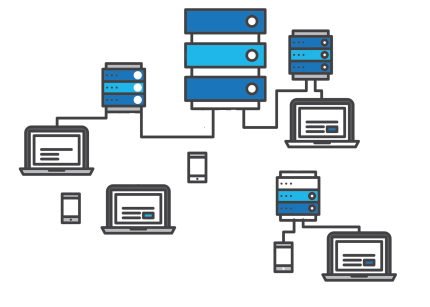 vServices Ltd provides you with the greatest degree of flexibility and scalability for your managed IT solution. We will host your IT resources in our data centres and can manage your entire infrastructure, including desktops, servers, networks and more as required – allowing you to minimise complex management issues and capital cost burden. Our solutions are based on either Linux or Windows operating systems or industry-leading hardware providers like Dell, VMware, NetApp, and Cisco. Our experts will optimise the package by ensuring load balancing; firewalls and clustering options are added to enhance the resilience with high availability. By outsourcing your IT to us, you can say goodbye to never-ending IT hassles for good. All our hosting packages are optimised utilising the settings recommended by industry experts to enhance the performance of the service and to match your particular application needs.
HELPING YOU BUILD UP MORE BUSINESS
An Active Round the Clock Service for Clients


24/7 back end support
We provide 24/7 support to our clients on the telephone, emails, live chats with bare minimum response time.
Specialised team
We have highly competent experts who are working in specialised teams to have all your concerns carefully analysed to give you a premium hosting experience.

Security
Your data security and confidentiality are our top most priority. We follow our security standards very rigidly and earn a reputation for that in the industry.

Extensive list of supported software
vServices offers you a wide range of software that is supported in accordance with your business needs.