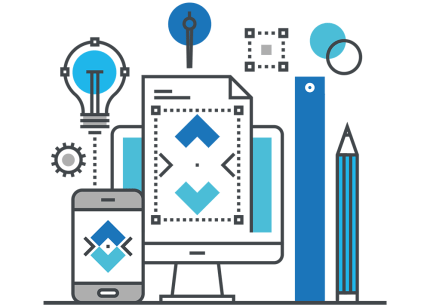 At vServices, we aim to create blogs to increase the visibility and ability to communicate with existing and potential customers.
The creation of content-based on the target audience of the company is a bet if it is having unique content and well designed, with a great impact in attracting new customers.
The appearance of the Blog concept generates a true revolution in the web world, which allows the publication of content by the people who hold the same information. Without unnecessary intermediaries. The more you publish specialised content, the more your BLOG has a chance to be found in a search on the subject.
vServices Ltd has extensive expertise in the development, content creation and management of corporate blogs for companies of various sizes and segments. We have an experienced team ready to perform all the services related to creating blogs for your company, such as:
Creation of layout
Integration in WordPress
Creation of Content with texts and images
Publication of contents
Our company has several objectives. However, it is necessary that it is an overall strategy for the Internet, in particular, aligned with the website or company websites.
Some possible objectives:
Blog as a tool to support customers
Blog as an information and knowledge management tool
Blog as a platform to manage a specific project
Blog as web marketing
OUR METHODOLOGY FOR MANAGING BLOGS

DEVELOP A PLAN:

Keeping your target market in our mind, we make a guide for giving your readers data they need – so we can be more focused on your blog.

CREATE CONTENT:

To create unbeatable content, we classify post topics and assign them to writers, as well as request and review pitches from contributors.

EDIT AND OPTIMISE:

Our quality is in editing posts to boost value for the reader. We also keep an eagle eye on SEO best practices to assist your blog rank high.

PUBLISH AND PROMOTE:

We deal with the editorial calendar, keeping up a healthy blend of content. That includes informative posts we tactically push live on specific dates frequently.

TRACK WHAT WORKS:

Monthly systematic reports permit us to track what is working and imitate that achievement. We adore using the information to help our customers achieve their goals.
WE MANAGE INCREDIBLE BLOGS
It is time to deliver quality content to your Customers
We develop a pleasant and engaging content with SEO techniques, through content analysis, amount of words, keywords and other data that influence the positioning of your website. Always exposing the care that your audience need.
vServices creates texts with simple concepts to be assimilated, leaving our clients on top of everything that happens in the world. So, what are you waiting for?
Come and join us
We are working as a one-stop blog destination that provides you the latest tips, tutorials, celeb and beauty trends, fashion freaks and much more.
We aim to make you write on a great range of topics as well as desire to create a huge club of creative yet brilliant writers.
We give you an opportunity to share your thoughts with a blend of incredible categories.
We compel you to read and take part in our blog to know about latest updates of Entertainment, Shopping hub and make you indulge in the world of Social Media.
A platform that collects interesting content for its audience with excellent taste. The blog covers categories such as SEO, Social Media, Technology and Travel.
How we go about it?
Blog writing is not possible without a collaborative effort, and your input is always needed for managing your current Blogs by sharing new information and responding to queries. The Planning and Creation process of Blog needs:
A thorough review of the product, activity, services, event or business
Understand the interfaces and integration requirements
Strategy and Planning
Design and Development
Development of Writing Style
Briefing and Research
Idea generation and inviting comments
Blog Writing
Update, Update, and Update
How we make your Blog Successful

Focused writing
Our organised blog management write clear, concise and focused blog articles that present succinctly and do not let viewers get irritated with irrelevant content.

Awesome Design
With our blog creation services, we create amazing designs and layouts that present an attractive view to users and prompt them to action.

Regular Content and Update
With our blog management services, the new content is uploaded regularly and the blog is overall updated in all aspects. Our writers and designers keep on adding contents that retain user interest.

Beautiful Images
Our blogs are supported by beautiful and relevant images that give the blog an overall creative appearance. These images are pivotal in attracting visitors into the content of the blog.