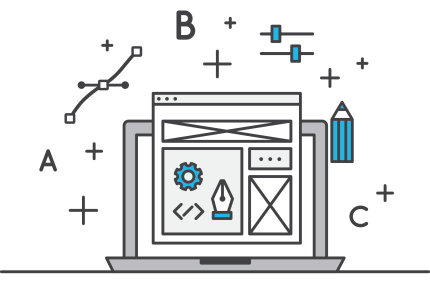 WE DESIGN CREATIVE WEBSITES
Here at vServices, we design web applications that focus on interaction and usability, boosting your efficiency and making your business even more connected. Our methodology ensures agile web design, providing a fast understanding of the demands of our clients. We design sites' specific to your company's business with the features you want. All web design is done keeping in mind the smallest details. Our sites have:
Professional and attractive Web design;
Intuitive and easy navigation;
Quality content;
Compliance with global standards.
The development of websites is a measure of our company's specialty. We can say in all truth that web design service is an essential part of vServices. We have a versatile designer's team with different skills in the most diverse areas of web designing; we put ourselves in a privileged position to carry out any web design project.

Static Website Design
Companies that require simple and informative websites with no special add-ons or dynamic and responsive features can take advantage of our amazingly priced static website design package.
These stationary web pages that are presented exactly as stored without any additional running web applications. This offers you to attain a web presence with a set of simplest and cost-effective pages to showcase your product/service or company.
Static website designs provide solution for the businesses relating to activities like images, logos, blogs, newsletters, brochures etc.
Our designed websites are fully responsive and built to work with all the browsers out there i.e. Safari, Internet Explorer, Firefox and Chrome including smart devices like mobile phones and tablets.
We offer 24/7 support.
We also offer all regular maintenance, SEO, Digital Marketing and Branding services.

Dynamic Website Design
Static website designs are simple plus wonderful for displaying information alone. For businesses that require regular changes and updates about their services to be incorporated in their websites vServices Ltd offers Dynamic website design package. This is best suited to companies that depend on interactive catalogues, albums and complex data series.
We help our clients to approach their customers in economical and efficient way.
The requirements of an e-commerce aspect of a business can also be incorporated on our clients demand.
Our Web designers build websites that automatically configure to all screen sizes and resolutions when switched between various devices and are built to work equally effective on all browsers including Safari, Internet explorer, Firefox and Opera.
We offer 24/7 support.
We also offer all regular maintenance, SEO, Digital Marketing and Branding services.

E-commerce Website Design
We offer an E-commerce website design package to businesses involved in online merchandise. Such businesses require developing websites that can cater to customers around the world in cost-effective manner.
The websites need to be user-friendly and should display the business products and services, let the customers choose, buy and pay online on a 24/7 basis and maintain records of such sales.
Our web designers are highly qualified in all major technologies and framework. vServices offers bespoken developed e-commerce websites to stimulate your business sales and profitability.
We use latest frameworks and programmes like OsCommerce, Magento, WHMCS and others.
vServices can help you upgrade your existing e- commerce using latest technologies such as AJAX and HTML 5.0.
We offer 24/7 support.
We also offer all regular maintenance, SEO, Digital Marketing and Branding services.
Ready To Get Started?
We'd love to discuss your Website Design. Fill out the form below to get started.
Prefer To Call? Any Time
+44 203 750 0511
You'll Get:
A call back within 1 business day.
Consultancy for all your IT needs.
Details on packages & pricing.
We Take Privacy Seriously.
We will never share your information.
vPromise!
Responsive Website Designs For Everyone

Customised to Each Customer's needs
We assess each client's individual needs to design a unique website that help him/her stand out in their respective markets.

Our Team
We have a chain of excellent Graphic designers and Website Content Writers who help us design such creative websites as ours.

Competitive Cost Packages
Our amazingly priced packages ensure that clients can choose the range of services they require and are not paying more than they should.
High Resolution Quality Graphics
We bring you the unmatched quality of Graphics that are visible in visual layout of our websites compared to others.